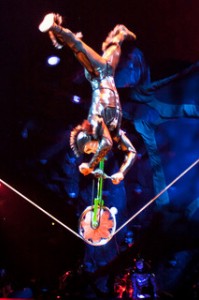 After a lengthy investigation, Nevada OSHA inspectors have issued six citations to Cirque du Soleil and three to MGM Grand following the death of a Cirque artist nearly four months ago.
During a Cirque du Soleil "Ka" performance on June 29, artist Sarah Guillot-Guyard fell over 90 feet to her death in the final scene of the show. The wire rope she was suspended on broke after it had shifted out of the pulley and was cut on a shear point. This was the first death during a Cirque performance in their 29 years of shows.
The Las Vegas Sun reports that the six citations for Cirque du Soleil included failing to protect their employees from striking the metal overhead grid, which Guillot-Guyard did hit, and which OSHA says caused the cable to be jarred loose. Allegedly, Cirque also failed to provide proper training for use of equipment used in the scene to the employees who were involved in setting up the scene where the accident occurred. Cirque faces $25,235 in fines and MGM Grand faces $7,000. Both are allowed to appeal the rulings and it appears that both are planning to appeal, saying they utilize rigorous safety practices.
Cirque's spokeswoman Rene-Claude Menard said the company underwent an extensive review of their safety procedures after the accident and are constantly focused on the safety of their employees. She said safety is a top priority for the production company. MGM Resorts also states that safety is a top priority and they work tirelessly to ensure their employees are secure.
When the formal appeal process gets underway it could take months before a decision is made. Cirque du Soleil has taken the initiative to support the family of Guillot-Guyard and make sure that her children are taken care of. Other Cirque artists have held fundraisers and charitable events. Guillot-Guyard had been a performer for 22 years and joined the Cirque "Ka" show in 2006.She also taught an acrobatic CirqueFit class.
It seems like Cirque du Soleil takes the safety of their performers seriously, especially since they have gone almost 30 years without a death during performances. Considering some of the stunts the artists pull off night after night, I do not think this case was the result of "cutting corners" or trying to skimp on safety measures. I think it was truly a tragedy and I appreciate that the company is doing their best to make sure the victim's family is taken care of and extending their efforts on safety procedures.