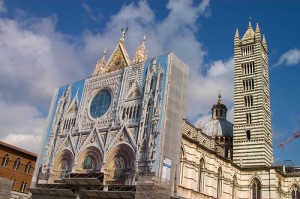 The Occupational Health and Safety Administration (OSHA) has fined the Ronkonkoma, NY painting and stucco contractor, Painting & Decorating Inc., another $460,350 in fines after an inspection of their worksite in Manhasset, NY. This isn't their first time around the block with OSHA, which is partly why the department handed them such a hefty fine. Maybe this will finally get them to take better care of their workers and their environment.
An OSHA spokesperson says the company was cited for their ongoing failure and refusal to provide basic safety measures for their workers-who have repeatedly been exposed to dangerous falls or injuries. In some cases, workers were exposed to potential falling hazards over 26 feet. In construction deaths, falls are at the top of the list and are one of the most basic things a company could protect against.
During their most recent inspection of the contractor's work site, OSHA identified similar scaffolding and fall hazards that they had found in five previous inspections of this contractor's work sites. You would think five times a charm would finally teach them a lesson but it doesn't look like Painting & Decorating Inc. really took OSHA's advice.
They are looking at paying almost a half million dollars for 10 repeat citations, including not inspecting scaffolding before set-up or before work began. A repeat violation exists when they have been cited for the same or similar violations within the past five years.
OSHA also found new violations like lack of fall protection for workers building the scaffolding, scaffolding erected on unsound footing and lack of eye protection. So I guess you can teach an old dog new tricks.
"Employers can enhance safety in the workplace and prevent hazards from occurring by implementing an effective illness-and-injury prevention program where they work with employees to identify, address and eliminate hazards proactively," said Robert Kulick, OSHA's regional administrator in New York.
The company has now been placed in OSHA's Severe Violator Enforcement Program (aka "The Naughty List"). This mandates targeted follow-up inspections to ensure the company is finally behaving.
Fool me once, shame on you. Fool me five times? Pay the consequences.