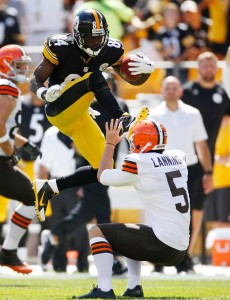 Maybe some of you are Steelers fans and actually saw "the crane kick" in action yesterday. Maybe you saw a clip of this on the news this morning. Either way, the Steelers receiver Antonio Brown delivered a blow to the kicker on the Browns, Spencer Lanning. Injuries at work happen, whether they are on purpose or they are by accident.  And though the Browns and the Steelers are two different organizations, let's just put everybody under the umbrella of the NFL for the purpose of this post- injuries caused by co-workers.
Unfortunately, some co-workers just don't get along. When they bring that animosity to a big league level, and injure their co-worker either mentally or physically while they're at work, or even if they are buddies and were engaging in horseplay during a shift and someone got hurt, a comp claim could follow.
For employers who have a situation like this on their hands, it can be difficult to know how to effectively protect both themselves and their employees. Make sure that when the incident, or incidents, occur, they are well documented. If there are any witnesses get their story to reduce the risk of a "he-said, she-said" kind of argument when the situation is addressed. The true  details of altercations tend to get blurry after the initial event, so taking down the details of the actual injury, who was involved, the date and time, and how it started right after it happens is always a good practice.
Mental injuries can be just as debilitating as physical injuries. If a worker is constantly berating or harassing another employee, try to intervene with the bully before they cause serious mental harm to another employee, and cause a workers' comp claim for stress or anxiety at work.
If a fight occurs during lunch or out in the parking lot after work, or even just when workers were goofing off and it was unintentional, that might not be covered under workers' comp. If it was not really on premises, or employees were not working "within the scope of their employment" and were instead trying to see how far they could shoot a nail from their nail gun and one of them was injured, that might not be compensable. Beware of personal injury lawsuits however, because an employee who got beat up by a co-worker could possibly sue that other employee or even their employer if they were found negligent. Here are several different cases of injuries at work caused by co-workers and the outcomes of each specific case.
Each case has different circumstances and outcomes, but it is important employers know how to protect not just themselves, but their employees, when these kinds of situations happen.