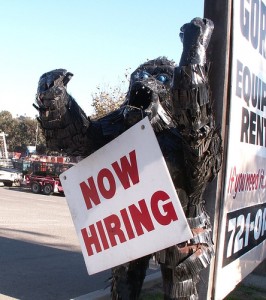 Crisis is a term that a lot of people I know use somewhat loosely. "There's a spider in the bathroom!" or "We're out of peanut butter" were often viewed as major life-altering events for my friends. However the workers' comp industry is headed towards what most people can agree is a real crisis-an eroding workforce. If nothing is done, an industry already plagued by several different problems could find they are doing it with a much smaller group of their most important resource- adjusters.
The U.S. Bureau of Labor reports that the industry is only expected to grow by 3 percent between 2012 and 2022. The national overall occupational growth during that time period tops 11 percent. The department speculates that with forces like rising medical costs and new health legislation, combined with an increasing older population, the number of claims may increase and the number of claims that need to be carefully scrutinized would increase as claims get more complex. That points to a greater demand for well-trained adjusters who can understand and properly handle detailed or difficult claims.
The claims adjusting population is tilted towards the older side of the age range. While that's good in terms of experience and job-knowledge, once those workers start to retire the industry will find their already overworked staff even more stressed and without the guidance and advice of seasoned workers.
Burnout is a reality in this industry, stress and too much work can take a heavy toll on adjusters. If an adjuster should suddenly leave, that company loses their experience and loses time while it looks for a new adjuster to take their place. Meanwhile, other adjusters must take on that extra caseload and companies are forced to hire from a shrinking talent pool. The new hire will need even more time for training.
In most environments, a younger workforce is ready and willing to take on new roles as the older workforce retires and leaves the industry behind. Unfortunately, the insurance industry is not "sexy" enough to entice younger generations. Most of my peers aspired to work at companies like Apple and Google, not big insurers. Not many little boys and girl say they want to be claims adjusters when they grow up.
Why aren't people attracted to adjusting? The industry has a bad reputation, and just like nicknames from 15 years ago can still haunt you, so can a bad reputation when it comes to recruiting new talent. A lot of high-school or college-age kids don't know enough about the insurance industry, or what their potential career path might be, to really be interested in it or pursue it as a career. There are also limited resources to train new recruits, since already overwhelmed adjusters barely have the time to give to their own job. Younger generations looking for a mentor might be out of luck.
So what to do?
Employers need to offer incentives to adjusters to stay, and to stay happy. Many adjusters find themselves bogged down with paperwork and mundane tasks that do not make them feel fulfilled at the end of the day. Companies can invest in new technologies or innovations that free up time for the adjuster and let them get back to what they really love to do- closing claims and helping injured workers. That could help foster more enthusiasm and fulfillment amongst adjusters.
Provide ongoing education or development opportunities. Invest in your adjusters so they can help your business grow. Educate them about their career path so they see a future in the job and want to spend the time cultivating a career.
Start to foster a mentorship program for veteran adjusters to translate their knowledge to newer workers. They have "been there, done that" and can understand what a new adjuster is going through both professionally and emotionally. They will set a good example for adjuster to follow for years to come.
Adjusters are crucial to your bottom line and to keeping your clients happy. When they do a great job, it is reflected in claims losses. This is an iceberg up ahead that I hope the industry can avoid before it's too late.