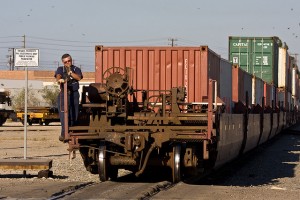 After a battle with her late husband's employer, Priscilla Roach was granted death benefits after her husband's gruesome injury and death shortly afterwards.
Clarence Roach worked at Union Pacific rail yard in Chicago, and suffered a degloving to his right leg after being hit by a train in February of 2008. He also suffered several other injuries and had to take a year off work for treatment before he could return in March of 2009. He had previously filed a negligence claim with the company under the Federal Employers Liability Act, and while that case was still pending but he was back to work, he died of a stroke in March of 2010. His widow altered the claim to say that his stroke and death were a result of his accident and that it was a wrongful death.
Initially the trial courts agreed with his widow, but Union Pacific appealed. They said that she and her husband lived in separate residences so her arguments about knowing the extent of his pain and suffering were invalid. They also said that the courts allowed the opinion of the family doctor which was an abuse of discretion, and the original trial court awarded more lost earnings than were actually earned by Mr. Roach. The appellate court said those arguments were waived, citing several recent cases in their decision to reject Union Pacific's objections, and held up the original ruling.
The courts pointed to the fact that even though they lived in separate homes, Priscilla visited her husband almost every day, and frequently drove him to doctor visits. She would have sufficient knowledge of his pain. They also found that since the doctor was not an irrelevant witness and had knowledge of the decedent's medical condition both before and after the accident, his testimony was valid. They also said they would only alter the amount of damages awarded if they seemed excessive and since the original trial determined that the lost wages compensation was reasonable that would stand as well.
His widow will receive $1,589,000 in damages.