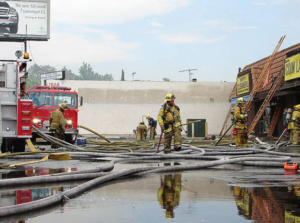 Wilmington, Delaware made a decision not to have workers' compensation insurance and now has to face the facts that they will have to use money out of their budget to cover several firefighters injured in a devastating fire last year.
Last September a fire in the city left four firefighters dead and injured three more. Costs from those who were injured are still being incurred as the firefighters recover, and the city is already estimating the payments to total $9 million or more. They will have to pay this out of their budget, and it could make up almost 7 percent of the city's budget of $154 million. The firefighters who perished in the fire were covered with life insurance policies but the surviving workers do not have policies to protect them. The city has been self-insured for years but does not have a policy to cover health care costs for public safety workers who are injured on the job.
City Councilwoman Loretta Walsh chairs the public safety committee.
There's the risk manager, the finance department, the auditor, the human resources director. Who's supposed to be in charge of this?" she asked, "How did it slip through so many fingers?"
The 2008 Workers' Compensation Reform Law mandates that participating Delaware and nearby out-of-state hospitals can only charge up to 80 percent of their usual fees for workers' compensation services. The hospital where two firefighters were treated for burns does not participate in that and so the city hired a TPA consultant to negotiate the price down on several of the bills. Consultants generally receive a percentage of the savings they are able to earn but the mayor's deputy chief of staff for policy and communications, John Rago, said the company they are working with has agreed to limited charges given the nature of the case.
Mayor Mike Purzycki said his office is looking into who initially established the workers' comp plans and says his office has a lot of questions about the decisions that were made.
Nearby cities like Philadelphia and Baltimore are also self-insured, but say they are prepared to handle the costs should worker injuries arise.
From Delaware Online, The News Journal