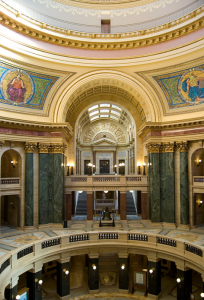 Wisconsin legislators are proposing a bill that may radically change the workers' compensation policies in their state. In 1911, Wisconsin became the first state to enact state-based workers' compensation laws but a little more than 100 years later the statutes may be changed if this bill is passed.
The bill is co-authored by state Representative John Spiros and state Senator Duey Stroebel, and they said the goal of the bill is to try and deter abuse of the system.
It would reduce the amount of compensation owed to a worker whose injury was due to their negligence. It would require workers to tell their employer about pre-existing conditions when they are hired or possibly risk being denied benefits if they are later injured at work and had not disclosed their health issues. The bill would reduce the statute of limitations for traumatic injuries from 12 years to two years after the death or injury. It would allow employers to send injured workers to a doctor of the employer's choice if the worker did not have a health benefit plan, and if they did have a plan they would have to go to a doctor in that network for their work injuries.
Other features of the bill include an exception for employers to stop paying out temporary disability if the employee is fired for misconduct or "substantial fault" of the employee, and would allow the state to be more involved in investigating fraudulent claims.
One opponent of the bill, Representative Christine Sinicki, said that this bill is part of an ongoing effort that is "chipping away… worker's rights and worker protections" and that it is undoing the efforts of the original workers' compensation act.
Sinicki said the authors of the bill "disregarded" the Wisconsin Workers' Compensation Advisory Council who would advise the state legislature on the contents.
"It's not an agreed upon bill, therefore it is not properly introduced to the Legislature," she said.
The legislation is planned to be introduced as early as Thursday, October 29th and we will see what happens in the state legislature. It might die right there and then or it might have big ramifications on this state's workers' compensation system.