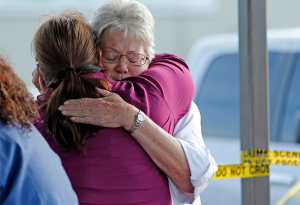 Sometimes horrible tragedies occur at work and an employee dies. When that happens, it is not like any amount of money seems enough to bring that person back but it is comforting to know that the system is there for people who need it. A widower in Oklahoma, whose wife was murdered at work, has received death benefits from the workers' comp commission in the state.
Colleen Hufford was a customer service worker at Vaughan Foods in Oklahoma City. On September 25th last year, she was killed by a co-worker who had just been suspended. She had not known this co-worker before the attack. Another worker, Traci Johnson, suffered serious injuries and is still dealing with PTSD and survivor's guilt. The man is in jail now and will be prosecuted for murder.
Hufford's husband, KC, will now receive a lump sum of $100,000 in death benefits and $418 a week for the rest of his life, unless he re-marries. He calls the deal "bittersweet". He used to drop off and pick up his wife from work every day and says some days he still gets up thinking he needs to get his wife off to work. He said that Reser's Fine Foods, the holding company for Vaughan, treated him and his case fairly and respectfully.
Johnson is also receiving weekly benefits and total temporary disability while she recovers from her injuries. Her experience has not been so smooth, as she was a temp worker under CompSource Oklahoma and not Reser's. Her employer is attempting to halt her payments after she missed several neuropsychologist appointments. Her lawyer says she has a documented excuse for missing those appointments since she was at another appointment for one and in the emergency room for the others. Johnson suffered 17 stab wounds in the incident and her battle for benefits continues.
Though this was an unspeakable tragedy, in this case the work comp system did its part for the husband and while Johnson is still involved in a claims struggle, we hope that her case is rightfully sorted out as well.