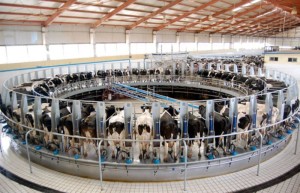 A maintenance worker at a dairy farm in La Belle, MO was working on an overhead door pulley on a 12-foot ladder when he fell off landing on a concrete floor and subsequently died from his injuries.  An investigation by OSHA identified eight serious safety violations, including chemical hazards, confined space hazards, and failing to de-energize equipment.
The dairy farm is owned by Sharpe Holdings Inc. our of Bethel, MO.  This is the second fatality that has been reported since 2012 in regards to a company owned by Sharpe Holdings.  This puts their injury and illness rate at a serious concern and makes it evident that safety is not a priority at its plants.
During OSHA's inspection it was discovered that the power to the overhead door had not been turned off during maintenance.  An animal carousel was not powered down and electrical boxes lacked covers.  All of these things put workers at risk for electrocution.
Sharpe Holdings also did not have proper storage of chemicals and using a permit required confined space to store them in thus exposing dangerous chemicals to all workers.  When storing chemicals in a confined space oxygen levels are reduced and can be a hazard to workers exposed to that area.
As a result of the violations found OSHA has proposed fines amounting to $54,500.  Sharpe has contested the violations and may appear before the independent Occupational Safety and Health Review Commission.