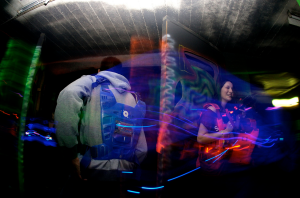 In the case of Holliday v. Tropical Nut & Fruit Co., an employee who was romping around playing laser tag and was injured was found to have a compensable injury. The court determined that at the time he was injured he was participating in a company activity.
Timothy Holliday was on a trip for his employer, Tropical Nut &Fruit Co., at their annual conference in North Carolina. His attendance was mandatory and he would be paid for the three days he was at the conference. The first night of the conference his employer organized a social event at a bowling and laser tag facility. Employees had all been assigned to teams and activities by the company and everything was paid for by the company. Holliday was assigned to laser tag and during the game was going up and down ramps and twisting and bending around to play the game. A few minutes in he felt sharp pain in his leg and decided to try to stay in one place the remainder of the game to rest. After the game he was in more pain and was limping, he told his manager and applied ice to his knee. He did not attend the rest of the conference activities, but resumed his normal duties when he returned to work from the conference. His knee still hurt and when he saw a doctor they gave him an MRI which showed a torn meniscus.
He received surgery to repair his knee in October of 2011 and continued working during his recovery but was laid off almost a year later. After he was laid off in July of 2012 he went to see another doctor about his knee because it was still bothering him after the surgery. The doctor thought he might have cartilage damage and would need a full knee replacement. He was also placed on a modified work duty where he was not supposed to be lifting heavy loads, standing or walking for long periods of time, or doing things like kneeling and squatting. If he could not perform his job without doing activities like that his doctor recommended that he be considered "off work".
He received back surgery for a disc herniation and a total knee replacement in the following months. He filed for benefits but his claim was denied. The workers' compensation hearing they found that Holliday should be awarded temporary total disability benefits.
Tropical Nut & Fruit Co. and their insurance company, Farmington Casualty Co. appealed the state industrial commission's original decision to award him benefits. They said that the laser tag event was more of a fun outing that did not benefit their company and though attendance was required, participation in the game was not mandatory. The courts decided that since every aspect of the event was determined by the employer (costs, scheduling, reservations, team assignments, etc.) and it was expected that employees use these events to network and bond with their colleagues, it wasn't really an optional activity.
The appeals court ruled that his injury arose out of the course and scope of his employment and his injury was accidental which are the three criteria they needed to ensure that his injury would be classified as compensable under the workers' compensation act. They determined that it could be presumed the laser tag outing was beneficial to Tropical Nut &Fruit Co. and it was an authorized activity for employees to take part in that was not exclusively for their own personal benefit. Holliday received temporary total disability benefits for his injury.