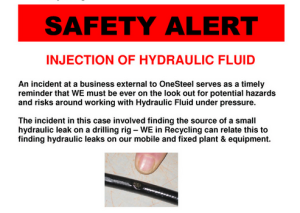 A worker at a floor mat manufacturing business in Calhoun, Georgia, found out that his employer did not have proper safeguards on their machines the hard way. The machine he was performing maintenance on to fix a leaking hydraulic line was not properly locked out, and his hand was injected with hydraulic fluid.
The employee at Apache Mills Inc. was doing maintenance when the machine started up and he was struck. He had to go to the hospital and get a shunt to drain the dangerous fluid out. The company has been cited by the Occupational Safety and Health Administration for failure to properly guard the machine, one of the seven serious safety violations and two non-serious violations they received as a result of the incident. They were also in violation for failing to properly train workers on electrical hazards and exposing workers to shocks, not providing workers with equipment to protect from shocks and exposing workers to falls from conveyers. Fines total $51,000.
The area's OSHA director, Christi Griffin, said that the worker's hand was "punctured needlessly" and that management at Apache needs to improve their culture of safety.
Before this accident the company has been cited six times over the past decade with fines totaling $5,500. Hopefully the hefty fines this time will spur them to action to make sure their machines are safe, but it is already too late for at least one employee who suffered the consequences of this oversight.