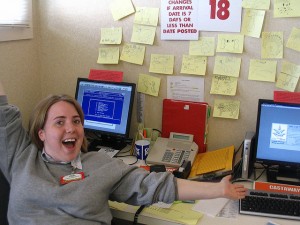 Another year, another new result of the Gallup-Healthways Well-Being Index. The 2013 study has been released and found that of the domains noted in the study, work environment seemed to be on the decline over the past few years. Since most Americans spend 40 hours a week (or more!!) at their jobs it seems like a poor showing if employees do not see this area of their life as "healthy". This can result in negative side effects for the employer and not just the employee.
The organizations acknowledged that overall well-being is comprised of more than just physical health and they have been analyzing things like physical health, work environment, life evaluation, emotional health, behaviors and access. They hope this information will benefit the healthcare industry as a whole, especially when costs are rising and the whole system appears to be at a crossroads. It could also benefit employers, since happier and healthier employers have been shown to do better at work and cost their employers less in terms of health care.
Sponsors of the study, James E. Pope, MD of Healthways and Jim Harter, Ph.D., of Gallup, introduced the study with the idea that "increasing citizens' well-being yields a competitive advantage for economic development and job creation, and lowers a disease burden and healthcare costs. For employers, it means greater productivity and lower costs in the workforce and better business performance."
They also indicated that each point in well-being improvement signifies a decrease in healthcare costs, an increased in manager and self-assessed job performance, higher retention rates and fewer unscheduled absences.
Since 2008, work environment scores have fallen on a consistent yearly basis. Scores are out of 100 and the overall national score in 2013 was reported at 66.2. In terms of work environment in 2013, workers reported a score of 48.0, the lowest of all six components of well-being that were measured. North Dakota was the state that reported the best work environment, followed by South Dakota, Maine, Vermont and Nevada in 5th place. Amongst the lowest reported work environments were in states like New York at 47, New Mexico at 48, Connecticut at 49 and Mississippi in 50th. The community with the top workplace environment score was San Luis Obispo-Paso Robles, California.
The study noted that people in professional, managerial and owner roles report higher well-being rates than those in transportation, manufacturing, repair and installation roles, who reported the lowest. People who report dissatisfaction in their job also report that they smoke more, sleep less and have lower well-being scores all around. The rate of job satisfaction has declined since the study began in 2008 and is now at its lowest level.
Incorporated into the study were testimonials from some of the top companies across the country about how they try to improve their workplaces to ensure their employees are happy and healthy. A spokesperson from the Hershey Company said they are taking a global strategy to support the well-being of their employees beyond just physical health. A leader from Ingersoll Rand said their company is trying to improve factors like work satisfaction and other personal issues.
The study includes market recommendations to improve this problem. They advise employers to look at employee health beyond the scale. It can do wonders for your organization in terms of lowering healthcare costs and can increase productivity and morale at your company. Your leadership can take an active role in setting a good example for employees and is another boost to company morale. If you have a poor work environment or you feel that your employees are not happy in their work environment maybe it is time to re-evaluate. If you can do something to increase the overall well-being of your employees that may results in less claims and less overall costs for healthcare, as well as more productive and engaged employees.