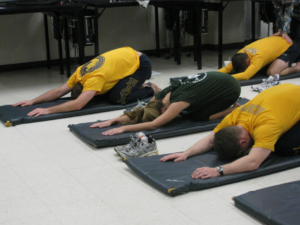 Unfortunately many people deal with back pain. Many rely on medications to treat it though many may be looking for alternatives to pills, especially given the highly addictive nature of many painkillers. A study from the Boston Medical Center published in the "Annals of Internal Medicine" shows that certain relaxed yoga poses can help with back pain, in some cases patients reported it eased their pain as much as bouts of physical therapy.
Researchers at the Boston Medical Center developed a specialized yoga class with help from yoga instructors, doctors and physical therapists. The class contained relatively mild yoga poses like child's pose and the cat-cow pose; more difficult poses were not part of the class. Participants were also led through relaxation techniques.
The research group was made up of 320 diverse, mostly low-income people who lived in the Boston area and who reported chronic lower back pain. Researchers divided them into three groups and followed them for a year. One group did a weekly yoga class for 12 weeks and then they were assigned to either drop-in classes or were told to practice at home for the remainder of the year. The second group was assigned to 15 PT visits, and then they were assigned to either "booster sessions" or were told to practice at home. Another group got an educational book and newsletters.
They gathered data from patients via a questionnaire and found that patients in the yoga group and the PT group reported the same amount of improvement in both pain and functionality over the year. At the beginning of the study 70 percent reported taking some kind of pain medication. After the first three months (the initial period for the yoga group to attend classes) 50 percent of those in the yoga group and the PT group reported taking pain medication. Those in the educational materials group did not report such a change in medication usage.
Rob Saper, the director of integrative medicine at Boston Medical Center says that the poses chosen for the study were chosen for a reason, and that people looking to ease lower back pain might not want to just go to a random yoga class. The poses involved are those that researchers thought would be the most helpful and the safest for those with this kind of pain to perform.
He also said that if more research is done and it's shown to be effective, one day insurers might want to look into covering yoga classes as a potential form of treatment.
The guidebook that goes through all of the poses involved in the class can be found here.
There was an editorial published in addition to the study, which acknowledges that this doesn't necessarily mean the yoga program is a silver bullet. It may be helpful to some who want to try and incorporate it into their treatment plan and there is relatively low risk involved to patients.
The study can be found here, and read more information here.