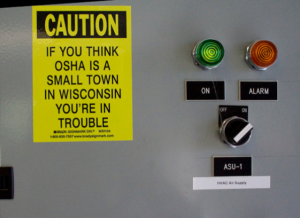 Louisiana's LAWorks Award recognizes businesses who take the initiative to implement and work with a safety and health management system that goes above and beyond. Two Louisiana companies, R&R Home Care Inc. of Mandeville, LA and Haven Nursing Center of Columbia, LA were named 2017 LAWorks Award recipients by the Louisiana Workforce Commission's Office of Workers' Compensation Administration OSHA/Safety Consultation Section.
Louisiana businesses can participate in a free safety program which aims to make workplaces safer for employees and to make regulations less of a burden for employers. The LAWorks Award consultation program is free and confidential, administered by safety and health consultants from the LWC OSHA/Safety Consultation Section, and businesses who wish to participate in the program must receive a consultation visit.
Employees are involved in the consultation and employers are expected to correct any hazards that are identified while continuing to maintain a safe workplace thereafter. The workplace safety system must meet OSHA guidelines and lower and maintain a lost workday injury and illness rate that is below the national average. If employers want to make changes or introduce new processes into their workplace they must agree to notify the OSHA/Safety Consultation Section before doing so.
Corey S. Gaines, OSHA/Safety Consultation Manager said that the businesses selected are "setting the standard for innovation and creativity in safety and health". The LAWorks Award can be renewed after one-year if the same workplace safety conditions are met during renewal review.
Read more from the Louisiana Workforce Commission