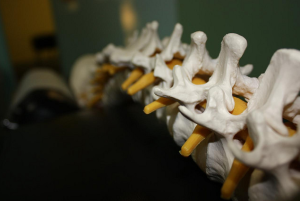 An interesting case out of Arizona today, in which an employee had two workers comp incidents under two separate insurers. Who pays?
Dan Slaven worked for Southwest Desert Images and hurt his lower back in an industrial incident in 2008, suffering a lumbar sprain. The doctor found a disc protruding on his left side but did not have symptoms so the doctor said that was not related to his accident. The insurer for Southwest Desert Images was, at the time, the State Compensation Fund of Arizona. They closed the claim for his sprain and Slaven was left with just two percent impairment, but he had not suffered any loss of earning capacity. Though he felt slight back pain from time to time, he continued to work.
Fast forward to 2012 when Slaven, still working for his same employer, injured his back moving large rocks. The next day he said the pain was so bad he couldn't even walk and he also started to feel pain down his left side and left leg. He tried to reopen the claim he had in 2008 with SCF but they rejected it. When he tried to file a new claim with his employer's new insurer, Colorado Casualty, they rejected him as well.
The administrative law judge said that he could not re-open the old claim with the state fund, but he could pursue a new claim with Colorado Casualty. The judge cited the successive-injury doctrine, which says that if a previously valid industrial injury is aggravated again by a more recent injury, a claim can be filed for that new injury either with the new employer or, in this case with the new insurer. If the worker files claims both to re-open their old case and for the new injury and can prove that both are legitimate, the insurer who is "last in time" is responsible for all the benefits. Not only will that second carrier be responsible to any treatments related to this injury, but any future conditions caused by "organic changes" to their incident or injury, meaning any natural changes to that condition over time.
Note that underlying symptoms that start to manifest but are related to the old injury would not be grounds for the new insurer to have to take over, but a new injury that aggravates that old one would be considered a valid claim for that new insurer.
Colorado Casualty was not happy about that finding and said there was no evidence of an organic change to the patient and there was no new injury because he just aggravated his old condition. The doctor who examined Slaven said that he was starting to suffer from impingement and soft tissue injuries that caused the pain down his left side which he did not have following the 2008 injury, and that the 2012 injury was caused by his moving of the rocks and not just a twinge to that 2008 injury.