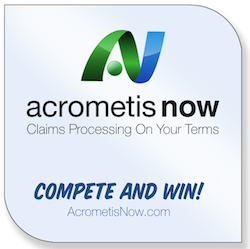 Claimwire will be at RIMS (Booth 363) and sporting the Acrometis Now sign. Snap a pic with it and enter our cANdid Camera Contest to win a PAIR of Kindle HDX Tablets! Complete contest details here.
Claimwire was established because of a clear need in the workers' compensation industry – a need for an updated, vibrant, easy-to-use site dedicated to workers' compensation forms, content, tools, and analysis.
The Team
Steve Schmutz and Ryan Healey established Claimwire in 2012. Together they have over 25 years of experience in workers' compensation – in technology, insurance, claims administration, and more. Claimwire's team is made up of professionals who love what they do.
The Mission

To provide more forms, more content, more tools, and the best analysis of the workers' comp industry than anyone else on the planet, and to present it in a beautiful, refreshing, and friendly way.
Stop by their booth (#363), snap a picture with the Acrometis Now sign (bonus entry if you include Steve Schmutz in the photo) and learn more about Data Dimensions. Not going to RIMS? Check out Claimwire's website.