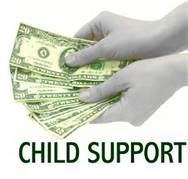 An Illinois circuit ruled that a man's workers compensation settlement could be taken and used to pay his back settlement to his ex-wife for child support.  The Supreme Court ruled last week that they were correct in doing this.
Howard Mayfield was awarded a lump sum of $300k in 2010 for undisclosed injuries that he suffered at work in 2007.  After all the fees and expenses he had to pay he took home roughly $240k.
Mayfield used his money to pay off his mortgage, a loan he had taken, he bought a hunting property, took a vacation, and bought jewelry, furniture, appliances, and furs.
Mayfield has been ordered to pay child support since 2003 to his ex Shannon Dykes for his two children.  Mayfield did not reveal his comp settlement to Dykes until a 2011 child support hearing to reduce his payments.
Ms. Dykes filed a petition with the courts requesting part of Mayfield's settlement because he had been out of work since 2007 and this caused a significant reduction in his child support payments.  The Illinois Circuit Court ordered Mayfield to pay 20% of his settlement amount to $47,984 as child support for his youngest child.  The Illinois Appellate Court upheld this ruling in 2012.
Mr. Mayfield appealed the case arguing that the court took too much of settlement and instead should have taken 20% of what his payments were until his daughter turned 18, which would have amounted to $5,222.70 being paid instead of the $47k.
The Illinois Supreme Court ruled that the circuit court was correct in their ruling and that Mayfield's settlement was to be treated as income.  The courts followed Illinois case law by awarding 20% of his settlement to his ex-wife as child support.
I feel like the courts did justice for the ex-wife and more importantly for the children involved in the case.  The man's first thought wasn't to get caught up on child support or even give money to his children, but he allegedly made some lavish purchases.  Our children need to be a first priority and the courts made sure that these children were taken care of, and did so follow case law.
Source: Business Insurance