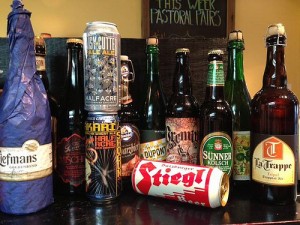 Between 2009 and 2012 at least four people were killed in craft breweries in the US as compared to only two deaths at large brewing companies.
There were also almost four times as many safety violations at craft brewers compared to large breweries.  Experts are saying this is because of safety oversights at craft brewers and also that many accident go unreported so these numbers are swayed a bit.
In 2009 Mark Moynihan crawled into a narrow tube in a fermentation tank to weld a crack.  Mark was a contract welder for Calhoun's BBQ & Brewery in Knoxville.  When he lit his welding torch there was too much oxygen in the tank, a flash fire ensued disintegrating his hair and clothes immediately.  Moynihan was able to crawl out of the tank still on fire, suffering burns to much of his body and eventually succumbing to his injuries 75 days after the accident.
Moynihan's widow sued Copper Cellar who was the owner of the restaurant claiming that the accident could have been avoided.  She settled for an undisclosed amount of money due to an NDA.
The craft beer industry was once either a hobby for most or a small business, but in recent years it has exploded to a $10.2 billion dollar business according to Brewers Association which represents 1,797 US craft and large beer makers.
As a drinker of craft beers this is staggering to hear.  According to OSHA data on two serious injuries have been reported since 2002.  Clearly there are more injuries not being reported.  I think a lot of small craft beer restaurants and brewers pop up out of nowhere, there are just taking a hobby and trying to expand on it.  The last thing they are thinking about is workers comp or getting injured.  Truth of the matter is that these injuries are happening, they need to be reported, and safety needs to be a forefront concern for these companies no matter how small they are.  For the full article pour a cold one and head over to Insurance Journal.