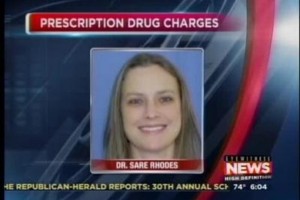 Dr. Sare Rhodes of Luzerne County, PA a dentist practicing in that area has been charged with prescribing narcotics to family, friends and associates without medical necessity or proper medical record keeping.
The criminal complaint against Dr. Rhodes suggests she wrote prescriptions for Oxycodone for family and friends dating back to August of 2009.  At least 10 of these people filled prescriptions at various pharmacies and often going to different pharmacies to avoid any suspicion.
The charges filed state that these prescriptions were written without any underlying dental issues and that Dr. Rhodes failed to keep files and medical records on these "patients" she prescribed these for.
Rhodes is charged with 10 counts of failing to keep medical records on controlled substances and 10 counts with prescribing Oxycodone to a drug dependent person.
She was arraigned and a preliminary hearing is scheduled.  Dr. Rhodes is innocent until proven guilty.  This is just another instance of a doctor overstepping boundaries.  These are just allegations as of now and I hope it comes out that she prescribed these medications with medical validity.
Source: PA Homepage