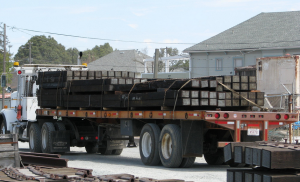 As many of you know Texas is a state that's on the "opt-out" system which means that employers do not necessarily need to have workers' compensation, although that can leave them vulnerable to liability judgments. One employer found out the hard way that being a nonsubscriber leaves you susceptible to lawsuits from your employees when they are injured.
West Star Transportation has been found negligent in the case of their injured worker, Charles Robison, and now has to pay $5.3 million to the worker and his wife.
Mr. Robison was injured when he fell from a flatbed trailer that was loaded unevenly. He fell headfirst and suffered serious brain injuries. This was in 2007 and his employer did not have workers' compensation insurance.
The couple filed a suit against West Star in 2009, saying that the company was negligent and did not provide a reasonably safe work environment. There was an initial settlement but that fell through so the Robison's went to a jury trial in Lubbock, Texas. The jury awarded the couple $5.3 million- broken down into $3.7 million for his past and future medical expenses, $1 million for his past and future pain and anguish, and an additional $400,000 to his wife for past and future loss of consortium. There were additional rewards for his loss of earning ability and other physical impairments.
West Star said that the jury was given an unfair image of negligence, saying they were presented with a very broad definition of negligence and the evidence in the case was not enough to support the outcome against them. The appellate court ruled that the jury was correct, and that West Star did not prove they were not negligent. In fact, the courts said they created a precarious workplace and put their employees at an unreasonable level of risk. Mr. Robison was performing a dangerous act and did not have the proper safety protections. They ruled he was deserving of the $5.3 million judgment.
For businesses that do not subscribe to the workers' comp program maybe this will serve as a reminder that you still need to keep your workers safe.
From Business Insurance