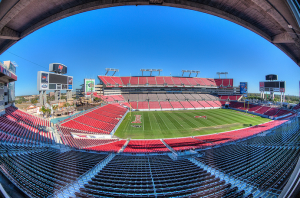 A former NFL defensive player, Brad Culpepper, is under fire because while he was collecting workers' compensation benefits he was also featured on Survivor. I don't know if any of you guys have watched it but it looks like a pretty grueling show to participate in, especially if you are injured.
While filming an episode in 2013, Culpepper was swimming and moving large crates. This is the same time that his doctors believed he could not lift heavy objects because of his constant back pain and stiffness. He said at times he was unable to go about his daily routine and do things like take a bath. He told the press that he had undergone a back procedure right before the show started airing and was on pain medication during filming.
He told reporters that just because he was impaired and in pain wouldn't stop him from doing things that might still hurt him. His insurer, Fairmount Premier, said that he gave them a false picture of his pain and his capabilities. Even if he was capable of "pushing himself", they said that someone who was in the condition that he told them he was in would not be able to do all the things he did on the show.
His insurer says he was deceptive and his actions were fraudulent. The dispute is still going on, and Culpepper continues to argue that the allegations are not true.
Speaking abstractly and not specifically about this case, I do understand that sometimes people who are injured or disabled can generate a negative reaction from the community. Fraud stories on the news have led people to believe that many people are faking it even when they are seriously disabled. I have heard about people who are hesitant to apply for benefits because they are afraid people will think poorly of them for claiming disability.
Just because someone is in serious pain, does that mean they aren't allowed to try and go on with their lives as best they can? If a person does not act like the image of the victim we have in our head, that doesn't mean they aren't due proper compensation for their injuries. There are a lot of people who do fake injuries and try to unfairly game the system, but there are many more people who truly need these benefits and hold their head up high even while they may be in serious pain.