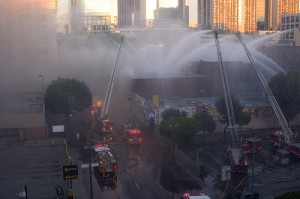 The National Institute for Occupational Safety and Health (NIOSH) has published a new study, it it they took three large cities with a combined 30,000 firefighters and found that they had higher rates of certain types of cancers and of having cancer as a whole than the entire U.S. population as a whole.
This is not new evidence although there has not been a study conducted of such a large population and for an extended period of time as this one was.  What this study did was re-enforce the previous data and strengthen the evidence that shows that there is a direct link between firefighting and cancer.
What researchers found were as follows:
Firefighters are most likely to develop cancers of the respiratory, digestive, and urinary systems as these were seen at higher rates during the study.
The firefighters that were observed during this particular study had a rate of mesothelioma that was double that of the U.S. population.  Most likely this is due to fires in older buildings that contain asbestos.  This is the first time in such a study that mesothelioma was identified to an extreme in firefighters.
The study analyzed cancer found in firefighters from Chicago, Philadelphia, and San Francisco  from those employed since 1950 which have also resulted in 29,993 deaths as well.  NIOSH led the study with assistance from the National Cancer Institute and was partially funded by the U.S. Fire Administration.
Firefighters are exposed to a variety of carcinogens when battling a blaze.  Some can be cause by explosion and be by products of that like formaldehyde, or they can run into buildings containing asbestos or other debris that has been burned.  This did not even take into account health factors, diet, smoking, and drinking.
There was be a second phase that will look at employment records to derive occupational exposures in relation to cancer.
We all look to firefighters to run into a burning building when we are all running out, these brave men and women risk life and limb to keep us safe when the unexpected happens.  Not many people think about not just the physical risks that these people go through, but the risk of breathing in all that smoke and chemicals on a daily basis.  That stuff is not meant to be inhaled into the body and as a result of doing that for an entire career these people are developing symptoms later in life and some are paying the ultimate price with their life.  I salute these brave men and women for keeping us safe.
Source: NIOSH