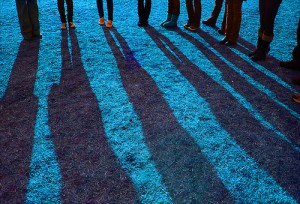 We think about workers' comp as a sequence of events- in the most basic case there is an accident or occupational illness, followed by the claim and subsequent treatment and then it's back to work or maybe disability. What happens when part of the process gets muddled by employer intimidation or bullying? We might think we're beyond dealing the bullies on the playground, but sometimes the actions of the employer can jam the workers' comp process.
It's understandable that employers are less than thrilled about paying workers' comp premiums, but most know that they do so in order to provide their employees with peace of mind and a safety net, should an accident occur on the job. An employer needs to be part of the support network for the worker at the time of injury and during the treatment and rehabilitation period. Some employers are afraid their premium will go up and pressure their employee into not reporting a claim to begin with. Then the employee is faced with the struggle of paying bills they shouldn't be responsible for.
An article titled "Bullying in the Workplace" states that small or midsize companies are more likely to pressure injured employees to keep their claims to themselves, since they are not used to dealing with the a large amount of injuries like larger, nationwide corporations do. Small companies might not have the manpower to cover for that worker during their time off.
"Smaller companies need that injured person to be working. There's a tendency to pressure that person to come back to work, or to get rid of them instead of helping them rehabilitate," said Lyle Masikoff, a P.A. in Florida. He says that in small companies, enforcement of workers' comp policies might be lacking and it can be difficult for an employee to get the compensation they deserve.
Employers could put practices into place that would single out an employee who placed a claim, for example having a policy that guarantees all workers a bonus if no one has an accident within a certain time period. An employee might be less willing to claim their rightful compensation if they felt it would hurt their relationship with their peers when they returned to work.
Masikoff cited an instance where a truck driver, who was injured, was continually written up for cursing and after three citations he was fired on the company's three-strike rule, which may have appeared to the courts a legitimate reason for termination. In reality, foul language is considered a "part of the job" and employers normally look the other way. Masikoff saw this as a situation where the employer was trying to terminate the injured worker without it looking discriminatory.
An employee needs to be motivated and willing to come back to work, not feel forced. When employers want them to return to work earlier than planned or threaten to let the worker go, the injury could get worse and result in even more time and money lost. When they do return to work, Masikoff says, they could face a hostile environment and still not feel comfortable about their situation.
"A supervisor could make a little comment like, 'He's too hurt to work today.' That's derogatory in front of other workers," says Masikoff.
Workers are already injured and face a tough road to recovery ahead of them; they shouldn't have to deal with an intimidating employer. It is important to remember that the law is on the side of the worker who has a legitimate claim, and they can seek help if they are facing problems of intimidation or wrongful termination.