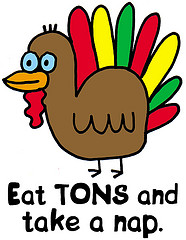 Turkey Day is tomorrow and once again I know I will have to endure the tradition of us all going down the table and saying what we are thankful for. As I kid usually the best thing I could muster was, "I am thankful we don't have homework over the break" or "I am thankful somebody brought so many cans of whipped cream so I won't get in trouble for hogging" (whipped cream rationing is a big source of contention in my family, a Thanksgiving tradition unlike any other). As I have grown I realized I have much more to be thankful for and it is a shame that we only really take stock of it this time of year. So here is my list of "What I'm Thankful For" for you to read after you've thoroughly stuffed yourself so full that have no choice but to lie on the couch and scroll our blog because you literally cannot move to do anything else. Or at least, that's what I'll be doing post-Thanksgiving dinner. Gobble Gobble Gobble!
5. I am thankful for our loyal (and newly obsessed) readers on WCInsights.com. It is really encouraging to hear your feedback and thoughts on some of the stories we have written about and we think that facilitates even more insight and knowledge about workers' comp.
4. I am thankful for my health. When writing about workers' comp, I read a lot of horror stories about unfortunate folks who now have one hand and in times like that I am reminded that I don't have it so bad after all.
3. I am thankful for all the support and growth we have seen on our LinkedIn page. We started it as a chance to start some conversations with our readers and we are grateful that so many of you have taken advantage of it!
2. I am thankful for my family, who would still support me even if I was in an debilitating work related accident and ended up looking like Two-Face from Batman. I might not be featured as prominently on the Christmas card…..
1. I am thankful for Wawa. If you're from the PA/NJ/DE/MD region you will understand this needs no explanation and is justified in its #1 position.
Enjoy your day and remember those that are not as fortunate- appreciate that you work in an industry whose goal is to try and help those who need it!
Adam Sandler's Thanksgiving Song
PS- This article isn't quite WC related but our friends from The Pennsylvania Insurance Department have some tips for those of you attempting to deep fry your Thanksgiving turkey- a delicious yet dangerous delicacy.