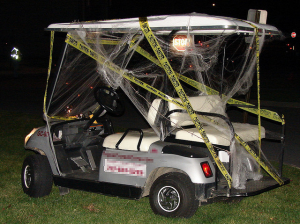 Two business executives who were playing a friendly round of golf got more than they bargained for when they took to the links.
Two employees of Henkel of America were playing at the Pinnacle Country Club in Arkansas in August of 2007. William Curtis and Michael Lemma were relatively of the same "status" in their office, based in Scottsdale, AZ. They were at a sales meeting at the Country Club, hosted by the Arkansas office of their company. The two attended the meeting and during a scheduled game of golf that was part of the meeting, Lemna accidentally drove their golf cart over a wall by the sixth hole. Both were thrown from the cart and Curtis injured his shoulder.
He filed a subsequent workers' comp claim back in Arizona and received benefits. He later filed a complaint in the Arkansas court to try and say that Lemna was negligent and should be held responsible for his injuries. Note that this was a tort action, not a suit to get more comp benefits.  However the courts sided with Lemna and dismissed the allegations, since they were more like co-workers and neither was really a supervisor of the other. But Curtis persisted and wanted a determination from the WC Commission. But a judge found that the two were within the scope of their employment at the time, the golf tournament was to further their company's interest, and Lemna was entitled to immunity.
Curtis appealed again to the State Supreme Court but was again denied, narrowly this time. There were three dissenting justices. It was ultimately determined that just because the gold cart was not a "business location" it was acting as the work place in this situation. Lemna was doing his best to provide a safe work environment (though he didn't do a great job), he is still protected but workers' comp. Read the full court file here.
The protective arm of workers' comp "no-fault" can extend farther than you might think. Though I'm sure Curtis was not happy about the situation, he did receive compensation for his injuries and his co-worker is not liable for any additional payments.