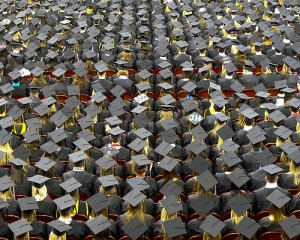 The latest Graduate Professional Student Assembly (GPSA) meeting at Cornell University passed an interesting vote that sent a strong message to the University. The students who are working on their campus part-time and studying part-time think they deserve workers compensation.
In other New York state schools, graduate students receive compensation if they are injured while working but Cornell does not provide this same insurance for their grad students. They receive stipends, which they argue is like a salary and they should be considered employees. As of now, under the University's classifications they are not employees and do not receive benefits.
A member of the GPSA who sponsored the resolution, Paul Berry, said he is curious what happens to a grad student who is injured working for Cornell. Would they still receive their stipend if they had to take time off? What if they were permanently disabled?
Another member of the GPSA, Franziska Doerflinger, said that grad students do a lot of the work that University employees are responsible for, yet are still classified as students. The Delta Cost Project released a report sponsored by the American Institutes for Research which analyzed employment changes at different higher education establishments for over 20 years.
The report noted that colleges are increasingly relying on graduate student workers to try and save money. It suggests that many of the tasks once completed by professors or other faculty are now being passed on to student workers or temporary hires.
These students are not so worried about the paper cuts they might get grading exams. Graduate students work in lab environments with dangerous chemicals and harmful instruments. They move heavy boxes or other equipment. They are facing real dangers and are trying to ensure they are covered should an accident occur.
The university does not have a mandatory system for reporting grad student injuries so there is no real data to account for the amount or type of injuries incurred, which might make it hard for them to advance their case.
They are students and they are there for an education, but with college tuition costing as much as it does these days (grad school students might still have their undergrad debt on top of their latest tuition) a lot of students are working. It makes sense that they are working in the departments and fields they are also studying in to prepare them even more for their future. It is interesting that they could be working in a dangerous chemical lab one day without workers' comp coverage and then graduate and work in that same kind of environment with benefits the next.