Stressed at work? Maybe you need to re-think your profession. Here is a list of the Top 10 MOST and LEAST stressful jobs from Employee Benefit News.
Least Stressful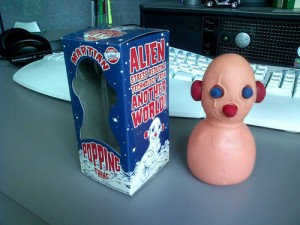 Audiologist
Hair Stylist
Jeweler
University Professor (tenured)
Seamstress/Tailor
Dietitian
Medical Records Tech.
Librarian
Multimedia Artist
 Drill Press Operator
Most Stressful                                                        
Enlisted Military Personnel
Military General
Firefighter
Airline Pilot
Event Coordinator
Public Relations Executive
Corporate Exec (Senior)
Newspaper Reporter
Police Officer
 Taxi Driver
The Center for Disease Control and Prevention's National Institute of Occupational Safety and Health defines job stress as the harmful physical and emotional responses that occur when the requirements of the job do not match the capabilities, resources, or needs of the worker. Job stress can lead to poor health and even injury.
The NIOSH cites a few factors of the job that might lead to stress. The design of the tasks, environmental conditions, work roles, or career concerns all play a part in job stress. A study from St. Paul Fire and Marine Insurance Co. reports that problems at work are more strongly associated with health complaints than any other life stressor, such as financial or family problems.
Yikes.
A lot of states allow workers compensation claims for emotional problems or disability due to stress on the job. The Journal of Occupational and Environmental Medicine reports that health care expenses are almost 50% more expensive for workers who report high levels of stress. The Bureau of Labor Statistics reports that workers who take time off due to stress or anxiety are gone an average of 20 days.
Symptoms of job stress can result in sleep disorders and long-term diseases like cardiovascular, musculoskeletal or psychological disorders.
Many companies have taken the hint and implemented programs to help employees learn stress management and coping mechanisms. But they can be short-term fixes that help the worker for a bit and ignore the root cause of the stress (the work environment).
All of this leads me to conclude that a stressful workplace is a recipe for increased risk of injury and increased cost. It's in the best interest of the employee, employer, and payer that employees are working under the least stressful conditions. Have you ever heard of anyone getting hurt or taking time off because they were too content?  If you're working in one of the more stressful jobs try to find some ways to relieve the tension. Take breaks, listen to upbeat music, go play with puppies or practice some morning yoga. Whatever you do to unwind and relieve the stress might be the very thing that saves you from an even more stressful work-related event, an injury.