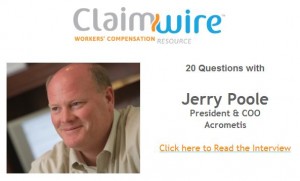 We are honored and excited to announce that Acrometis President and COO Jerry Poole has been highlighted on Claimwire as part of their Industry Spotlight series.
Mr. Poole is featured alongside other thought leaders like David DePaolo of WorkCompCentral, Karen Wolfe of MedMetrics, LLC, Michael Bell of Gallagher Bassett Services, Inc. and Brian Mack of Systema Software.
Steve Schmutz, the founder and CEO of Claimwire, took the time to chat with Jerry about his background and interest in the claims management software industry. Mr. Schmutz said "talking to him about it made me want to learn more" and we are thrilled to share this story with our readers. Please check out the full interview on Claimwire.com, and thank you to Mr. Schmutz and the Claimwire team!