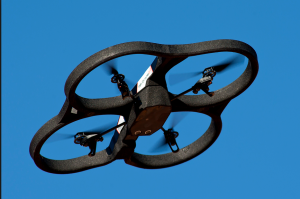 We've talked about the idea of using drones in insurance before, but now one company is actually looking to make that a reality by asking the government for permission to operate small drones.
Along with the United Services Automobile Association (USAA) and State Farm, Erie Insurance Group asked the U.S. Department of Transportation if they could use an unmanned aircraft system (UAS) for research, survey or inspection to serve their risk management and underwriting branches.
Currently the Federal Aviation Administration (FAA) is not big on drones for commercial use, but they have been reviewing permissions on a seemingly case-by-case basis until they develop regulations for more civilians to use them. They have let certain production companies use drones, presumably for filming purposes and other government or educational institutions.
State Farm said they would use their drones to specifically look at roofs, which can be structurally unsound and dangerous to inspectors. Another benefit of drones is that they can get a true and clear picture of what happened while an adjuster's account might leave out a detail or two.
Erie Insurance wants to use these aircrafts to train their own staff and also to survey or inspect areas where a casualty event has occurred. Drones can go in and inspect a scene safely and in less time than an employee might. Buildings might be unstable or there might be other hazards to employees who go onsite to do inspections and sending a drone in may be a safer alternative.
They are hoping they will boost their risk assessment, loss prevention and underwriting departments with the use of drones. They have said they would enact a number of safety measures if they were given permission to use a drone, like having a crew on-hand to make sure the flight is safe and that the aircraft stay 200 feet from any human or thing not directly related to the inspection site unless they got permission.
What do you think about the use of drones in insurance? Let us know on our LinkedIn group!