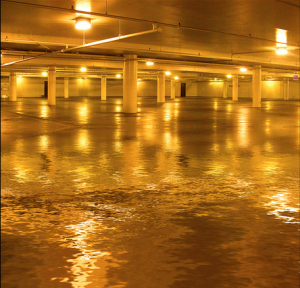 Spring is around the corner and New Englanders might think they are done with weather after putting up with a record breaking amount of snow this winter. But what happens when there are feet of snow on the ground and it's suddenly 60 degrees out? It melts. Now the region is bracing for the possibility of flooding. That means employees and employers should be bracing themselves for that possibility as well, and making sure they know the proper safety precautions in the event of floods.
Warm weather means more employees are working outside. Recreational facilities, landscapers, construction workers and others will be out and should know what to do. For both indoor and outdoor employees it is important to have a plan in case of an emergency.
Do not encourage your employees to drive over a flooded roadway should they come across it. According to the Occupational Safety and Health Administration (OSHA), about half of flood deaths are vehicular related and just two feet of running water is enough to sweep a car away. No matter how shallow it looks or stagnant it is it's still very dangerous. Six inches of water can stall a car and a car can float in just a foot of water. Let your employees know that the company car isn't as important as their life. Your employees should not try to cross on foot either, water can hide debris that your employees can hit or slip on.
Try to evacuate your building and get to higher ground if you are inside and water is coming in. There can be electrical dangers as well as heavy debris that can get picked up by water and injure employees.
Once water has left there will likely be a lot of slippery mud left over, so urge your employees to be cautious if they are working in a muddy area. Mold can set in as well, so monitor your workspace for mold after the fact. If you're cleaning up your workspace after a flood make sure everything is stable before you go in and wear protective equipment in case anything falls or becomes unstable.
OSHA has a slew of resources available if you are worried about floods and the safety of your workers.