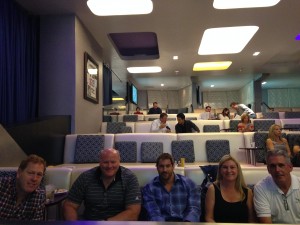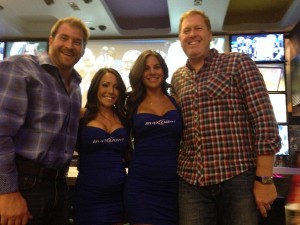 The Acrometis / WCInsights team was in Vegas early last night for the NWCDC.  We took advantage of getting in early and decided to watch the game at Lagasse's Stadium inside the Venetian.  If you have never been to Vegas or even if you have and have never watched a game at Lagasse's Stadium you have no idea what you are missing out on.  Not only did we get to see an exciting game between the Patriots and Panthers that ended with a controversial interception, but this is the only sports book in town where you can get some of the best food you will have along with drinks and an amazing view of the game with fans from both teams going wild.
In Vegas you can bet on almost any aspect of the football game so some of the team made some fun bets; would the first score of the game not be a touchdown? Would there be more than five total sacks? Would there be more than three field goals? Of all the bets placed the lone winner to walk away with a few bucks was our own Lee Mikles who wagered that the Panthers would pull out a victory and they did.
Lee was also the big winner for his choice of beverage last night.  By choosing to drink Bud Light it just so happened that the Bud Light girls were in the house.  Lee was the recipient of a key chain, a tee shirt, and a calendar which just so happened to be handed to him by Miss November to which she gracefully signed her picture for him.
All in all it was a great start to our week in Vegas as we lead up to the start of the NWCDC.