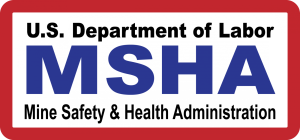 The Mine Safety and Health Administration has reported the 2014 year end results for miners deaths.  Initial data shows that 40 miners dies in work related incidents in the country's mines, this is two fewer than that of 2013.
24 Miners died in metal and nonmetal mines in 2014, that is an increase of two from the number of deaths in 2103.
West Virginia had five coal miners die.  Virginia, Kentucky, and Wyoming all had two coal miners die.  Indiana, Illinois, Alabama, Utah, and Montana all had one coal miner each die.
The most common cause of mining deaths involved power haulage and machinery.  Five of each type of accident occurred in the coal mines.  In the metal and nonmetal mines eight powered haulage accidents occurred.
MSHA has taken increased measure to make sure that mining deaths are preventable.  They have increased surveillance and strategic initiatives via impact inspections, especially at mines that have had a history of compliance issues in the past.  Fines have been increased for violations.  The actions shown by MSHA and the mining community have shown to be making improvements for a safer mining industry.
You can read the full analysis of mining fatalities here.