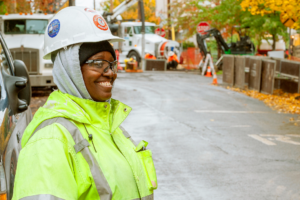 The Occupational Safety and Health Administration (OSHA) together with the National Association of Women in Construction (NAWIC) announced that they are renewing their alliance to promote safety and health for females in construction.
Women who work in construction have unique concerns like workplace intimidation and violence, sanitation and personal protective equipment selection. This alliance, now renewed for another five years, aims to focus on those unique hazards by providing information and access to training resources to help workers protect their health and safety, and to understand their rights and the responsibilities of their employers.
Alliance participants hope to share information on related OSHA campaigns like their Heat Illness Prevention campaign, the Safe + Sound Campaign for Safety and Health Programs and the National Safety Stand-Down to Prevent Falls in Construction. NAWIC provides their services to over 4,000 women in construction.
Read more about the alliance and their goals and read about the recent renewal with OSHA here.