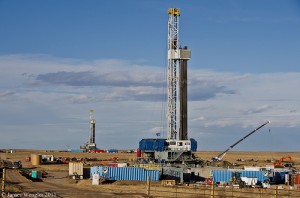 Oil and gas workers don't have the safest jobs regardless, but the Occupational Safety and Health Administration warns that now they must be additionally careful during the fracking process.
Fracking – or hydraulic fracturing – is the process where companies force natural gas from deep underground to rise to the surface by shooting millions of gallons of water into the earth.
The sand used to frack contains crystalline silica, which the workers can breath in before, during and after the process. Breathing in silica has been linked to some very nasty health problems, such as lung cancer, kidney disease, tuberculosis, and a host of others.
The mixture is usually about 90 percent water, 9 percent sand and 1 percent chemicals. The sand can be up to 99 percent silica.
Researchers tested the existing sites, and the results were not pretty. 47 percent of the sample sites showed silica exposure greater than OSHA's limit, while 9 percent had over 10 times the legal limit. However, employers have been ramping up their preventative methods since 2012, when they first found out this could be an issue.
I hope these employers do everything they can to keep their workers safe. If not, heavy compensation and later in life complications will likely follow.
Source: Coshocton Tribune