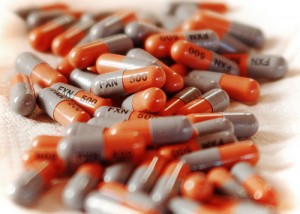 Dr. Stephen Anthony, 64, of Davie, Florida, has plead guilty to conspiring to distribute and dispense large amounts of oxycodone without  a legitimate medical purpose and outside the usual course of medical practice.  He is also charged with money laundering and tax evasion.  Anthony's max sentence could be 5 years for the drug charges, 10 years for money laundering, and 5 years for tax evasion.
Anthony was employed as a clinic physician at Broward Urgent Care in Fort Lauderdale.  While there the co-owners we also co-conspirators.  After the two former owners were convicted of running a pill mill they sold the six clinics to Anthony who clearly learned nothing and continued the pill mill business.  According to documents filed in court Anthony wrote 12,510 scripts for oxycodone and 5,776 scripts for Xanax.  In total more than 99% of his patients were prescribed oxycodone.  If you added up the milligrams that Anthony prescribed it would total 42,374,370 milligrams in 10 months.
It is believed that Anthony laundered $581,761 in narcotic money between 10/15/10 and 2/22/11.  To do so and evade taxes as well he purchased large amounts of jewelry and automobiles as well as put money into accounts under a third party name.
This matter is still being investigated by the DEA and IRS.  His two former employers were sentenced to 20 years and 10 years for their part in the pill mill.  Time will tell shortly what his fate will be.
This is a perfect example of why we have the opioid problems that we are having in this country.  This is a man who took a oath to do no harm and here he is taking full advantage of it the courts find him guilty.  Greed clearly took over and total disregard for his patients lives.
Source: WorkersCompensation.com