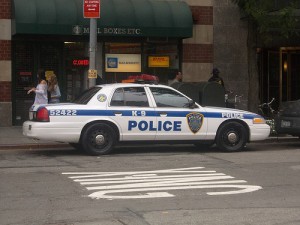 Port Authority of New Jersey and New York Officer Christopher Inserra has been accused of allegedly committing insurance fraud by claiming that he sustained a disabling injury on duty yet still performed with his rock band in off hours.
Inserra claimed that while on duty he sustained injuries to his lower bicep and elbow region in his right arm.  The claim was open from June 2010 to March 2012,  AFLAC was paying Inserra for being off duty and injured.
While collecting his insurance money Inserra was videotaped by investigators playing in his rock band all while using his right arm in ways that contradicted his alleged injury claim.
This is an ongoing case so no outcome can be reported at this time and all people are innocent until proven guilty.  This story alone just shows how even people who take oaths to protect us and uphold the law can violate the law at times.  We have seen stories like this in the past.  I hope that justice is served.
Source: Insurance Journal