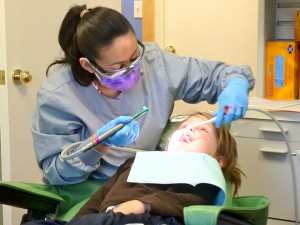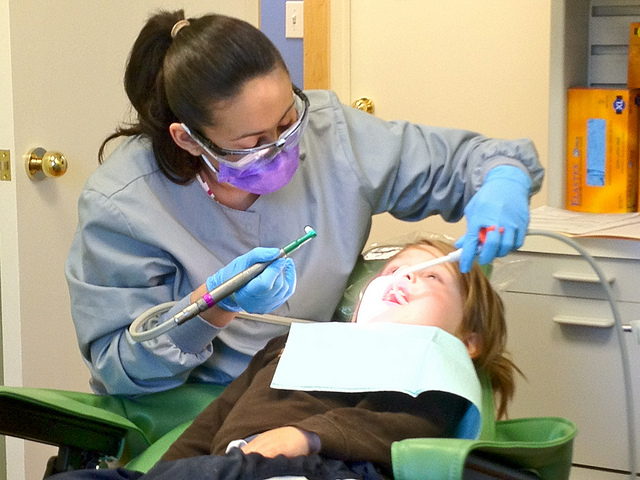 A lot of the time when we hear "work-related injury" we think about a logging accident or a construction fall. We might not think about office workers who also have a high risk of injury- especially repetitive use injuries like carpal tunnel. One dental hygienist in Nebraska who worked doing the same thing for more than 30 years has just been awarded workers' comp for her neck pain (clinically diagnosed as "degenerative spondylosis in the cervical spine") she developed at work.
In 1981 Barbara Potter started working as a dental hygienist, and in 2007 was working for Dr. Patrick McCulla when she began to experience neck pain. She kept track of her injury and noticed that it was worse during the end of her day, which she attributes to having to be in that bent over position for most of the day while she was seeing patients. A few months after she first noticed the pain she went to see a doctor, Dr. Donald Walla, who recommended PT and steroids but said she could continue working. She informed her employer that she had been to the doctor and that she thought her injury was work related, and he submitted a report to his insurer who paid Potter's expenses.
In terms of worker' comp, everything seemed to go smoothly.
Fast forward to 2009 when Potter left work because her pain was so bad. Now the business belonged to a new dentist, Dr. Tracy Garcia who also had anew insurance carrier. They reviewed Potter's case and said that it was a pre-existing, degenerative condition that may have been aggravated by her work, but was not caused by or related to her work. They stopped paying her medical bills.
Potter left Dr. Garcia in 2011 to work with another clinic but continued to feel pain and her new doctor, Dr. Essay, told her to restrict her work to three days a week. He said her condition was aggravated by her work but could not say for sure which of her positions caused the conditions- as she had worked a few jobs with this neck pain.
When she filed a petition in 2012 seeking benefits, they awarded her 40 percent loss of earning capacity and said that Dr. Garcia was responsible because she was her employer on the date when she left work because the pain was so bad. Garcia and her insurer filed an appeal, but the court found that Potter gave reasonable evidence that her injury stemmed from her work and that it was a repetitive trauma injury that presented itself "suddenly and violently", as was the case during that day when she had to leave work. The court sided with Potter and awarded her benefits.
Just like the case of the employee who injured herself on her lunch time walk, this is a situation where the facts of the case are crucial to the outcome. Workers' comp is never cut and dry and it is important to remember that each injury, and each person, is a new and fresh case with different circumstances.