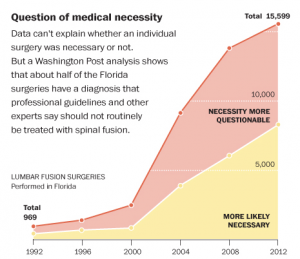 Marcos Iglesias MD, MMM, FAAFP, FACOEM of Midwest Employers Casualty pointed to a detailed report in the Washington Post related to unnecessary spinal fusion surgeries as a start into the discussion of the causes and high costs of unnecessary surgeries.
The Washington Post analysis of 125,000 patient records highlights a crazy rise in spinal fusion surgeries. For one doctor who was doing five times more fusions than other doctors, the rate was enough to raise the eyebrows of the hospital where they were being done.  The hospital had a board of neurosurgeons from a health-care audit firm review the cases and determined 9 out of 10 of these were medically unnecessary.
The hospital, which incents doctors to do these kinds of lucrative surgeries, had a subsequent internal report conducted which determined that the surgeries were, wait for it, all medically valid.
Read the rest of the article over at the Post.