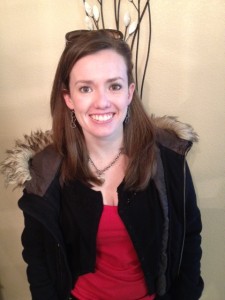 Our "Star Adjuster" series is really living up to its name. Our conversations with adjusters continue to produce comments and information from adjusters that let us understand their world a little better.
We love reading about the enthusiastic and quality adjusters you work with. Keep the nominations coming by submitting a form on our Y.O.T.A section of WCInsights. Make sure to grab a complimentary copy of our infographic to feature in your office or share with your friends as well, and while you're there submit your tips for other adjusters!
The next adjuster in our series is Erin Schweigert. Last year she became a Senior Claims Adjuster for Employers Compensation Insurance Company and had been a claims adjuster there since 2006. Her nominator noted that she was the adjuster for her office's biggest policy. That's a lot of pressure! She seems to handle it quite well and continues to exhibit an excellent attitude even as she takes on new roles when she is called upon. She really steps up when she is asked and still manages a full claims caseload.
WCInsights- Your nominator mentioned your mentoring abilities and job shadowing program that you developed to help employees understand the claims process. Could you expand on that?
ES- In an effort to improve collaboration between the Claims and Subrogation departments, I worked to develop a job shadowing program.  Subrogators that elected to participate were required to complete the training modules for Claims Adjusters.  They were trained on making initial contacts, doing investigations, completing action plans and understanding of the initial claims process as a whole.
WCInsights- What is the most rewarding part of being an adjuster?
ES- I enjoy the variety that each day brings.  As an adjuster, I get to work with all sorts of different people from different industries on a daily basis.
WCInsights- What is something that you think would make your job easier?
ES– I think there needs to be a national prescription database that is accessible to adjusters.  This would help us protect injured worker's safety by preventing coverage of inappropriate or duplicate prescriptions being filled.
WCInsights- What is something you personally do that you think makes the job better for you?
ES- I work for a really great company and I have excellent leadership.  If I'm unsure of how to proceed, I'm not afraid to ask for assistance in order to ensure I provide the correct responses.
WCInsights- How do you stay on top of claims?
ES- I continually strive for new and better ways to handle my claims.  Rather than accepting the status quo or complaining about processes that are not as efficient as they could be, I try to provide feedback and recommendations to my superiors to provide better or faster results.  Every time I run into a new or difficult situation, I try to take something from it.
I've developed and continue to create tools to help me with my daily work.  I've formatted wage calculation work sheets for each of my jurisdictions, reserve reference tools, recorded statement templates based on injury types and endless letter templates.  It took a lot of time to create these resources up front, but it's been a good investment long term.
WCInsights- If you had more time in your workday, what kinds of things would you be able to do?
ES- I would increase my presence within the local workers' compensation community by attending more training seminars and events.
WCInsights- Could you share a story of getting an injured worker back to work that had an impact on you?
ES- I had an older injured worker that had to undergo ankle surgery after a slip and fall.  Unfortunately, his employer was unable to accommodate his sedentary restrictions post operatively and this resulted in extended time loss.
The employer was a small business and they were concerned they would have to replace his position.  I put a lot of effort into educating them about the benefits of return to work versus extended time loss.  I kept in close contact with all parties involved and worked hard to get medical restrictions to the employer as soon as they were available.
We were eventually able to coordinate a light duty position for the injured employee.  In order for return to work to be successful they allowed him to work reduced hours, only a few days the first week, then gradually increase his hours until he was back to his full time schedule.
The injured employee was very happy to keep his job and the employer was very happy that they did not have to hire and train someone to replace him.
WCInsights- What's one tip that you could offer to other adjusters?
ES- Treat your internal and external customers with respect and develop positive rapport.  At the same time, don't shy away from difficult situations.  Provide solid data and rationale to support your decisions.  Be honest with people, they respect that, even if they don't agree with what you're saying. 
Thanks Erin!