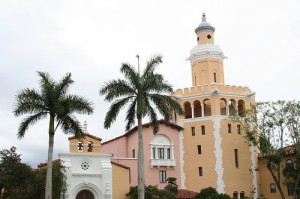 Stetson Law made some noise at the WCI 360 conference in Orlando this week by winning the E. Earl Zehmer National Moot Court Finals.
Collegiate teams came from as far as Florida, Mississippi, North Carolina, Pennsylvania, Virginia, Texas and South Carolina to debate in hopes of claiming victory.
The teams were tasked with arguing for or against the decisions made by the Judge of Compensation Claims in a hypothetical case in front of the judges, who in this case took on the role of a Florida Appellate Court.
Though each team fought hard, in the end it was Stetson University College of Law students Kayla Cash, Paul Crochet and Tyler Egbert that ended up earning the trophy. They are coached by Associate Dean and Professor of Law Michael Allen and alumnus Jason Stearns.
I extend my congratulations to these hard-working students of law. Remember their names; this may not be the last time they are seen within the Workers' Comp circle.
Sources: WCI 360 and Stetson Law