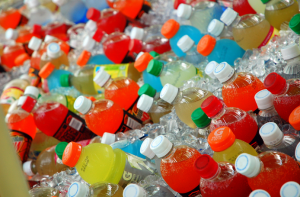 While I love Wild Berry Pop-Tarts and Tang as much as the next person, we all know that while these flavors are delicious they are not natural. Chemicals and dyes like "Red 40" are found in an increasing amount of the foods we eat, and there are workers out there who are handling these materials every day to bring us the neon colored chips we love so much. Now food manufacturers are stepping up to try and protect those workers from dangerous exposure to these compounds.
Limits for most of the chemicals used in food were set in the 1970s and haven't been updated since. So manufacturers are taking it on themselves to develop guidelines or solutions to keep their workers safe (and keep themselves out of hot water).
Don't let this worry you as a consumer- the levels in the food we eat are safe. But imagine a factory worker who sees 100,000 snacks go out every day while we handle just one (or three if I'm being honest)? They have a much higher exposure level, in terms of inhalation or contact exposure.
Back in 2001 the National Institute for Occupational Safety and Health (NIOSH) developed a report that tied workers at a microwave popcorn plant to lung problems due to chemical exposure. I've been told by numerous co-workers as I stink up the kitchen that popcorn bags are notorious for being full of chemicals, and workers were exposed to a chemical called diacetyl which can cause bronchiolitis obliterans- a disease that makes it hard for people to breathe and may be deadly. After that, more companies took a look at how the chemicals they worked with affected workers.
John Hallagen is an attorney for the Flavor and Extract Manufacturers Association and said that they try to hold workshops to enlighten the industry on how to safely mitigate these risks. Installing ventilation systems and adding hazardous chemicals at the bottom of mixers instead of at the top where excess can fly into the air easily, are just some suggestions the group has made.
The Occupational Safety and Health Administration (OSHA) has said that they've tried to update the old limits but have hit roadblocks and just haven't had success. California is a state that has set its own limits, though there are not too many food plants in that state so it's hard to tell how much of an impact that has had.
For now it looks like it is up to manufacturers to police themselves and hope that their practices do the job in protecting workers from additive chemicals and the harm they may cause.