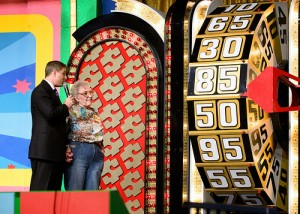 A former Fayetteville, NC postal worker pleaded guilty to receiving fraudulent workers compensation payments after she was injured on the job  in 2004.  On Monday, she pleaded guilty to workers compensation fraud in federal court.
Cathy Cashwell injured her shoulder in September 2004, she then claimed that was no longer able to lift mail onto the trucks because she was unable to bend, reach, or grasp.
Her claim was called into question after she appeared in "The Price is Right" game show in 2009 where she made it to the big wheel.  She was seen raising both hands over her head and grasping the wheel to make it spin – twice.
It is alleged that in 2010 she went zip lining with her husband as part of a cruise vacation they took together.  She was also observed by a private investigator carrying groceries and furniture using both arms in 2011.
Private Investigator Allison Blackman says that workers comp fraud is very common and she estimates that nearly 30% of comp claims in North Carolina are fraudulent.
Cashwell will be sentenced in September.
Source: WRAL