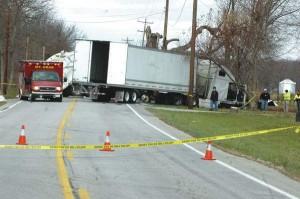 A fatal crash on US 68 in Mt. Orab, OH shut down the highway for about 10 hours on November 19th.
The collision involved a Rumpke recycling truck that was picking up tires on his usual route and a tractor trailer that was carrying furniture.  According to the initial investigation it appears as though the Rumpke driver – Richard Boles crossed the center line driving south and struck Joe Grober head on killing both drivers instantly according to the Brown County Coroner.  It is unknown at this time what caused Boles to cross the center line.
Emergency officials responded quickly, but neither men could be saved.  "Words cannot express the sorrow we are feeling at this moment. Our hearts and our prayers go out to these drivers and their families," said Mike Puckett, safety director at Rumpke.
I am sure that the safety director of Rumpke will want to know what happened to cause the driver to cross center so that something tragic like this can be avoided in the future.  Anytime people doing their jobs are killed it is tough on the company and the families.  This story in particular hits very close to home for me as the driver of the semi Joe Grober was a dear, close friend to my brother.  The spoke daily and did everything they could together.  My thoughts and prayers go our to all families that are affected by the tragedy and hope they find peace during the holiday season.
Source: Cincinnati.com