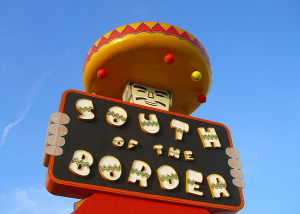 It's not every day that you hear about a workers' comp dispute going all the way up to the United States Supreme Court. This past week, the courts put a case involving a foreign worker who was injured on US soil on their roster of cases to review.
Adan Valenzuela lives in Mexico and is a Mexican citizen. He was working for Portaedores Del Noroeste, a company that moves fuel from Phoenix, Arizona to Nogales, Mexico as a truck driver when he was in an accident on the Arizona side of the border. He was treated at a Mexican hospital them the University Medical Center in Tucson. When he returned home he requested benefits from the Mexican equivalent of Social Security and Workers' Compensation, the Instituto Mexicano del Seguro Social (IMSS). This is something that all companies in Mexico must buy into, but Portaedores did not have workers' comp in Arizona.
The IMSS paid for Valenzuela's disability benefits until he was well enough to work again. He saw a doctor who was outside their network, however, and they agreed to pay only up to $17,000 of the bills from this Dr. Ramirez, an amount which did not cover all of Valenzuela's expenses. He filed with the Industrial Commission of Arizona, and since they couldn't find his employer in the system (duh) they referred him to the Special Fund. They classified him as a uninsured employee and accepted this claim and paid for bills at the Tucson hospital, since they were the only ones presented in the report Valenzuela filed. They did not want to pay for Dr. Ramirez's bills.
Valenzuela wanted a hearing in front of the Industrial Commission to get his full benefits, the Dr. Ramirez bills, and his employer argued they couldn't take the case because the jurisdiction of Arizona didn't have any say in the matter; this issue fell under the North American Free Trade Agreement instead. The courts rejected that argument and the employer's subsequent appeals when Valenzuela was granted the full benefit payments. They also asked for a lien from the employer for his benefits, because they were paying out of a special fund for uninsured employees to fund Mr. Valenzuela's payments.
Now that it has worked its way to the US Supreme Court, it will be interesting to hear the arguments from each side. Could this alter any laws or ordinances when it comes to immigration/migrant worker issues in workers' compensation? We will see when the case makes it to the highest bench.