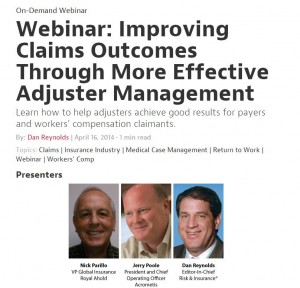 This past week, Acrometis president and COO Jerry Poole, along with VP of Global Insurance for Royal Ahold Nick Parillo, delivered an outstanding webinar that will help claims organizations maximize provider networks and empower their adjusters. The knowledge presented in this webinar could help your organization free up reserves and stop paying unnecessary costs.
The webinar was hosted by Dan Reynolds of Risk & Insurance and the panelists looked at key metrics like overworked adjusters, new ICD-10 codes, using predictive analytics and the adjuster's important role in case management. There were lots of valuable audience questions and the two presenters conveyed some important insight to those who were able to attend. But we wouldn't want to spoil it for you as you still have a chance to watch it yourself.
If you were not able to attend for some reason (alien abduction, free pizza day at your local bistro, your house was overrun by rabid squirrels…) not to worry! We have everything you need to get in on the action.
Read more and view the webinar slides and recording here.