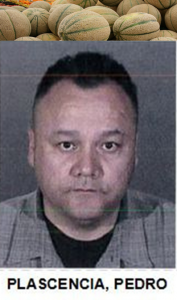 Our semi-regularly scheduled Fraud Friday series has been less than regular lately- but the story this week was too good to pass up. Back to more serious topics on Monday.
A former Los Angeles School District police officer has been arrested for workers' compensation fraud. Pedro Plascencia had exaggerated his injuries and gave a false statement. He told authorities he was patrolling the school on his bicycle when he ran over a "wayward cantaloupe" and lost control, sustaining a work injury.
A wayward cantaloupe. Their words, not mine.
He originally said he had injured his right knee, right foot and right hand. Then he got a lawyer and subsequently changed his claim to include injuries to his back, hips and left knee as well. He denied having any injuries before the accident but the court ordered his medical records, which indicated that he had pre-existing conditions in these newly claimed injuries.
The court reversed his permanent disability status, which would have netted him about $15,000.
"Plascencia knowingly misrepresented, pertinent and relevant information about his prior medical history during his current workers' compensation claim. I am thankful that in this case my team of investigators were able to catch the offender quickly before any real damage was done," said Insurance Commissioner Dave Jones.