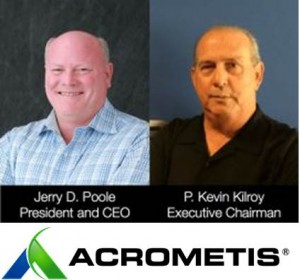 Acrometis, the leader in SaaS-based workers' comp claims processing, recently named Jerry D. Poole as President and Chief Executive Officer, while P. Kevin Kilroy remains as Executive Chairman at Acrometis. This is a planned evolution that demonstrates the company's continued progress and success.
"I am thrilled to see how quickly Acrometis has evolved in such a short timefrane, which in no small part is due to the talented contributions of the entire team of Acrometis employees. This next phase promises to be just as exhilarating," stated P. Kevin Kilroy.
Read the full story on the Acrometis site and join us in celebrating the new leadership as we look forward to future achievements.