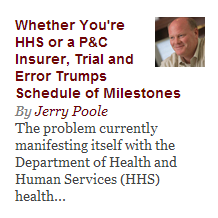 Jerry Poole, president of Acrometis LLC, has been featured on PC360 where he discusses the recent healthcare system launch. Or rather, failure to launch. Poole has years of experience in systems development and compares the failure of this site to the failure of systems in the P&C workers' compensation world.
Poole is able to point out where and why the system failed and offers solutions for the department to save face. He notes that falling down along the way should be viewed as progress. When organizations refuse to look at failure as part of the process, problems arise.
Though they might have an impressive resume, sometimes the ones chosen to build the system may not be the best choice. They might be knowledgeable about IT but not about the people that are going to use it. In order to build a good system, you need to be familiar with the real-world process. In both healthcare and workers' comp, people who do not understand how the system is going to be used should not build it.
Jerry Poole has 25 years of engineering and technology experience, and continues to be a leader in designing and implementing software systems. He is the architect of Acrometis' CLAIMExpert claims processing platform, developed to correct inefficiencies in the workers' compensation industry.