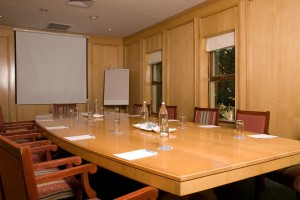 Keeping in line with our "Star Adjuster" series we've been featuring our "Adjuster Roundtable" interviews to facilitate a deeper conversation with adjusters. We have learned a lot so far and we are very excited to add another installment of our roundtable. Don't forget to submit nominations for the star adjuster you know.
These conversations gave adjusters the chance to speak to us and to each other at a more in-depth level so we can further understand what goes on in the world of adjusters. Keep a look out for our continued posts of the roundtable discussion and one-on-one interviews so we can truly make this the Year of the Adjuster!
Our group comes to us from AMERISAFE, a specialty provider for small to mid-sized employers in hazardous industries in over 30 jurisdictions. They utilize Field Case Managers, who carry low claims workloads in order to spend more time with employers and their injured workers, facilitating prompt resolution of claims. Our four adjusters work in different jurisdictions but they all know the struggles of the busy adjuster life!
This week we've been talking to the adjusters to find out their secrets to staying ahead of the claim without letting the work get out of control.
How do you stay on top of your claims?
Anna: I think a big part of what makes Amerisafe different is the fact that we do have a lower case count. Obviously that doesn't mean we're less busy, because we're on the road a lot, we're out in the field. But with a lot of other companies you have shuffling of claims, you have adjusters that handle a hundred to two hundred claims. You don't get the opportunity to really dig into the file and I think in the long run that actually costs the companies more money because when you have a file that you're going to handle from start to finish, you know all of the nuances of those claims and you know where red flags are and you can actually have the time to follow up on some of those things. That's huge. It helps to bring those files to conclusion a lot quicker and oftentimes without litigation, because you have a rapport with the people involved, the injured workers, the physicians.
I guess the other thing is that you have to kind of go with your instincts when you're handling claims. Most of us have been in this business for quite a long time and you kind of know when something is going to go south and you need to get on top of it right away. That helps you to get the most cost-effective results in the end. Although it can be very difficult at times, you can't let your personal feelings get in the way of the ultimate goal, which is to bring that file to a conclusion. Like I said, sometimes that can be very difficult when you have injured workers that maybe are not being quite so honest.
Anna: Also, I think that we tend to see lower incidences of litigation just because, people already have a preconceived notion about what work comp is all about and what the folks handling their claim are going to do or not going to do. But once they get into it, they realize that that's not exactly how it's going to go. I think that as those people begin to realize that, they're a lot less likely to go to an attorney when they can come to you and say, "I don't understand this," or "Can you explain to me why this wasn't paid?," or those sort of things. Because of that I think it does kind of cut down on the litigation. Even in cases where we're trying to settle, there's a lot of injured workers that don't even go to an attorney, even though they're settling their claim, because they do trust us. We're not here to take advantage of them. That's not what Amerisafe is all about. We need to be fair and get the job done. That's included in the settlement process and everything else.
Nancy: I'm kind of detail-oriented. Every Monday I pull out my list of claims and go from top to bottom to see, who's got doctor's appointments, who am I waiting for a response on? Again, I have a smaller caseload than most again because I am a supervisor. If somebody's got a doctor's appointment, I want to talk them within twenty-four hours. I want to know that they were there. I want to know what the doctor said. If I've asked my attorney a question, I want a response within a certain window of time. That's what I'm about, keeping track of my claim.
Our caseloads are small enough that we can stay on top of them versus being an adjuster who just comes to work every day and puts out fires. We're ahead of the curve on a lot of that. We have forty-five day reporting requirements on our internal reports, which I'll be the first to admit when I started this job I was thinking, "Forty-five days? That's just crazy." I came from a company that was three months, but it's really good. It keeps you into your claim medically. It makes you think about your action-plan every forty-five days. What comes next? How do I keep this case moving? I think as a result we get quicker closures on our claim files, which is always a good thing. The longer the files are open, the better likelihood that they're going to go south on us.
Karen: As a supervisor, I have weekly goals and I have daily goals as well. I outline those at the start of each week. Usually on the weekend, I will outline what I need to accomplish within the next week. I usually take it on a day-to-day basis dedicating each specific day to one specific adjuster that's under me. I focus on their case, on a certain adjuster's cases on, say for instance Monday, then I'll move on to another one on Tuesday and the same for the rest of the week. I have to also incorporate the claims that I actually handle myself into that equation and allow the time for claim staffing with that particular adjuster on that particular day. That works well for me and I try to work all of their tickles on that certain day of the week.
That helps me to stay organized. Some things can happen that can throw your days off and you just have to change gears and be able to adjust to that and sometimes you do have to be dedicated enough to put in some additional time in the claims adjuster position. I think the most important thing that can keep things from blowing up to a certain extent, is the main thing, my first thing that I try to do is I return phone calls. That's my first priority, because, if you don't return the phone call, it's going to escalate somewhere else and one thing that I have found in getting complaint calls at certain points in time is if someone hasn't returned a phone call.
So, I just encourage my staff to, if you don't know the answer, just return the phone call and let them know you're working on it, because that's one of the most important things. It could keep you from having to spend a lot of unnecessary time dealing with that escalated issue in the future because if you give the claimant a bad impression that you don't care or that you're not going to return their phone calls then they are mostly likely going to go out and get an attorney. I think that's what I put as top priority, is just being responsive to people.
And keeping my sense of humor helps a lot too!
Tabitha: I think it's important to try to be as proactive as possible. I think procrastination can probably be our worst enemy in work comp and maybe in any insurance claims field. I also think that documentation of my files and communication with my insured's, my injured workers, whoever is involved in the claim, also helps me stay on top of everything on a daily basis. I think time management and prioritizing your daily schedule is crucial. You just have to be able to be flexible in regards to everything else that may come up throughout your day.
Some very helpful information from our adjusters on how they stay on top of their claims. As we've often heard you can plan for every detail but sometimes you'll get a case that demands your immediate attention. It is important for adjusters to be flexible and motivated to handle their work on a day-to-day basis and these ladies sure work very hard to get it all done.