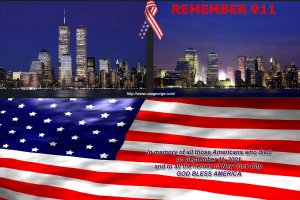 I just wanted to take a minute and reflect that today is the 12th anniversary of 9-11.  When our country was so viciously attacked by terrorists.  To all those who lost their lives in the attacks, to all the heroes and first responders who risked their lives and lost their lives, and to all the military who has been fighting this battle for over the last decade we salute you and you are all in our thoughts and prayers everyday but especially today.
Living in Philadelphia I am very close to New York and spend a lot of time there.  I know people who were lost in the tragedy and it never gets easier.  I was at ground zero a week after the attacks and I will never forget the presence of military, the horrific scenes, and the smells in the air; it will live on with me forever.  Even with the killing of Bin Laden it does not get easier, of course I was more than ecstatic when we finally caught the man responsible for so much devastation in our country; but it will not bring back all of those we lost.
Today make sure we all take a moment of silence to remember the great nation that we live in.   Take time to remember all those we lost and to remember all those who fight to allow us to live in the greatest country in the world and enjoy the freedoms that we have.
The attacks of September 11th were intended to break our spirit. Instead we have emerged stronger and more unified. We feel renewed devotion to the principles of political, economic, and religious freedom, the rule of law and respect for human life. We are more determined than ever to live our lives in freedom." –Rudolph Giuliani, former mayor of New York City
"Remember the hours after September 11th when we came together as one to answer the attack against our homeland. We drew strength when our firefighters ran upstairs and risked their lives so that others might live; when rescuers rushed into smoke and fire at the Pentagon; when the men and women of Flight 93 sacrificed themselves to save our nation's Capitol; when flags were hanging from front porches all across America, and strangers became friends. It was the worst day we have ever seen, but it brought out the best in all of us." –Sen. John Kerry
"And standing here in the heartland of America, we say in one voice: We will not give in to terrorists; We will not rest until they are found and defeated; We will win this struggle; not for glory, nor wealth, nor power, but for justice, for freedom, and for peace; so help us God." –Sen. Tom Harkin